2023 Spring-Summer New Design Trends
Which design styles will be the upcoming spring/summer 2023 trends? With reference to recommendations and predictions from cutting-edge fashion magazines such as Vogue, Marie Claire, and GQ, we will discuss the most recent developments in window treatment design, as well as what you should know about color, texture, and structures, in order to help you choose your own unique smart window solutions.
COLORS
Colors stimulate people's vision and bring various feelings and experiences, and Spring warms people with a relaxing sense because of its specific color emotion as all things recover. This naturalistic style will also become a current fashion trend this year because making the home cozy yet modern, and you can choose natural colors from green leaves and fibers as your first choice for interiors. In contrast, the heat and restlessness of summer make cool colors more popular, they can bring you a refreshing and clean style, making the home a place where you can completely relax and feel inner peace. Let spring and summer find their way enter your home this home decor time.
Green Scents of Spring
Green, which is the color representative of spring, can bring various colors of outdoor landscapes indoors and foster a relaxed and natural atmosphere. This V-slate Stone Moss Green is extremely understated and elegant, its deep or light color lines weave both horizontal and vertical textures and help our house look advanced.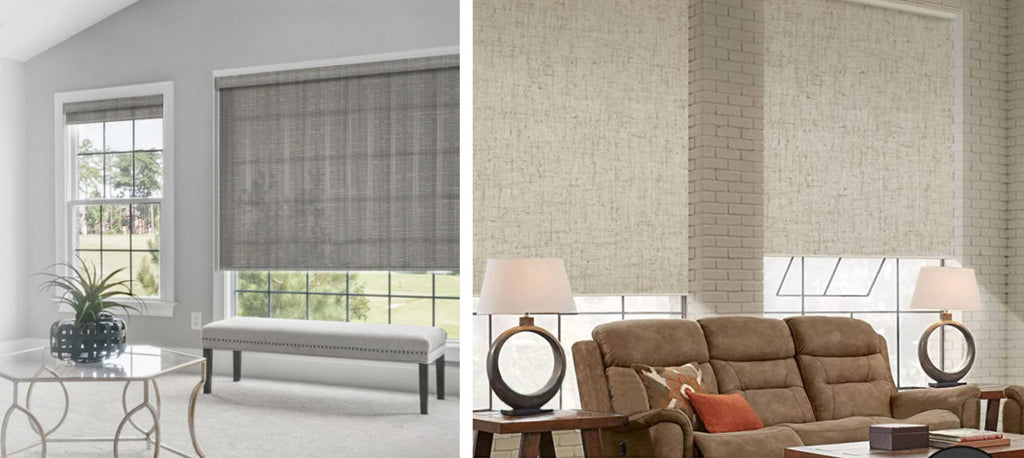 (pictured left) 50% Blackout Roller Shades Fabric: V-slate Stone Moss-green
(pictured right) Blackout Roller Shades Fabric: Linen Beige
Nuances of beige
During the transition of spring and summer, it is suitable to integrate into the natural fields and enjoy. Beige, the color of natural wool, gives you a gentle and soft sense and satisfies all of the naturalism enthusiasts' interior requirements, modern and rustic.  
Cool blue
In summer, of course, you would prefer cool blue. Blue is reminiscent of the vast sky and ocean and calms the heart which is depressed due to heat. Navy Blue Shades is fit for those who value privacy, and they look tranquil and profound. Classic Smart Curtains make a sense of luxury, especially matching traditional classic styles.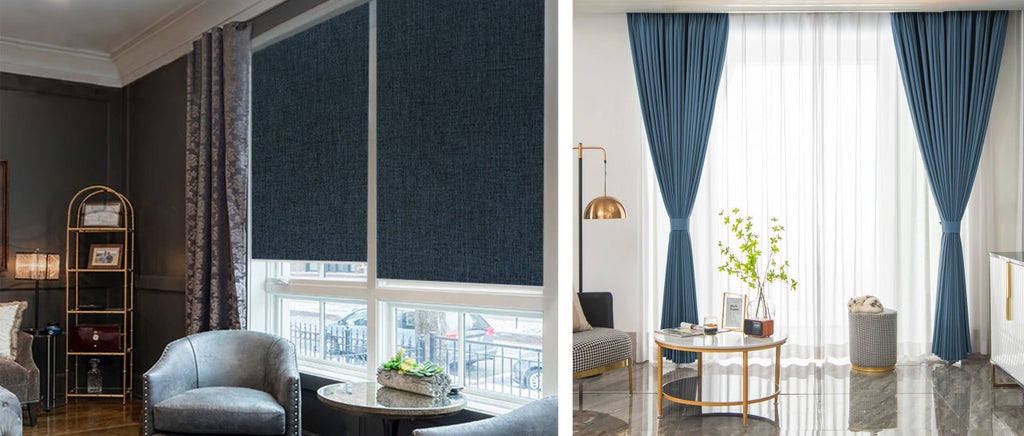 (pictured left)  Blackout Roller Shades Fabric: Navy Blue
(pictured right) Smart Curtains Fabric: Luster Blue
Versatile white can't go wrong



Pure white should not be overlooked if you still aren't sure what color to choose, it's a kind of white blank to margin leaving, neutralizing the extreme vitality of spring and the harsh heat of summer. White Shades are designed for any house in any style, modern and timeless. In addition, the unique Shangri-la Shades bring excellent light beauty to the house, making the furniture and interior shine.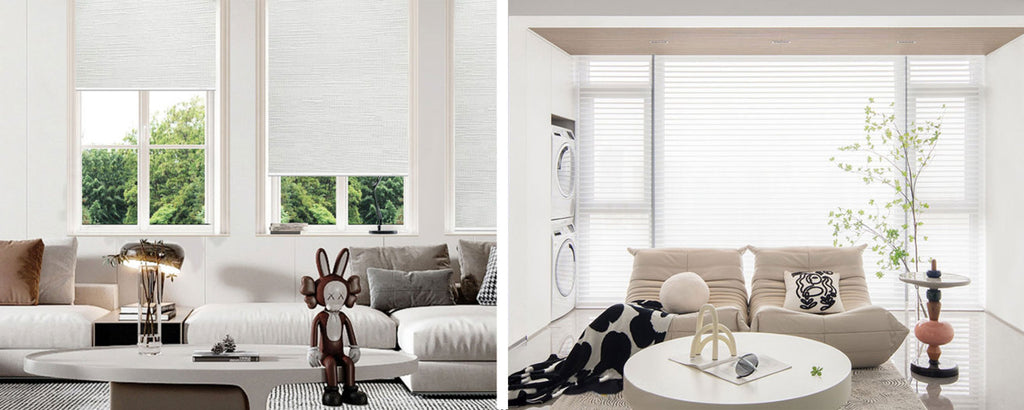 (pictured left) Blackout Roller Shades Fabric: Navy Blue
(pictured right) Smart Curtains Fabric: Luster Blue  

TEXTURE
Besides the aesthetic brought by the vision, every touch is in contact with your shades through its unique texture. It's essential that capture some moving moments in spring and summer by depicting the natural patterns of plants, feeling the breath of season and fixing charming visual beauty, so shades decorate your house and make it more advanced and full of personality and style. As a result, your home will carry your beautiful memories of spring and summer and will be an artistic trend that doesn't remain superficial and is never out of date.
Spring is not only a change of color. The wooden series simulates the texture of trees' surface, making the flat fabrics have a distinct tactility as if we are in a forest with a rich variety of vegetation, flowers and chirping birds in Spring.


50% Blackout Roller Shades Fabric: Wooden Series 
Chic transparency
The transparency of the fabric is just right, taking into account privacy and light. Half-shading Shades can be perfect for enjoying the spring scenery outside your window as well as Outdoor Shades maintain sunshade and ventilation in summer.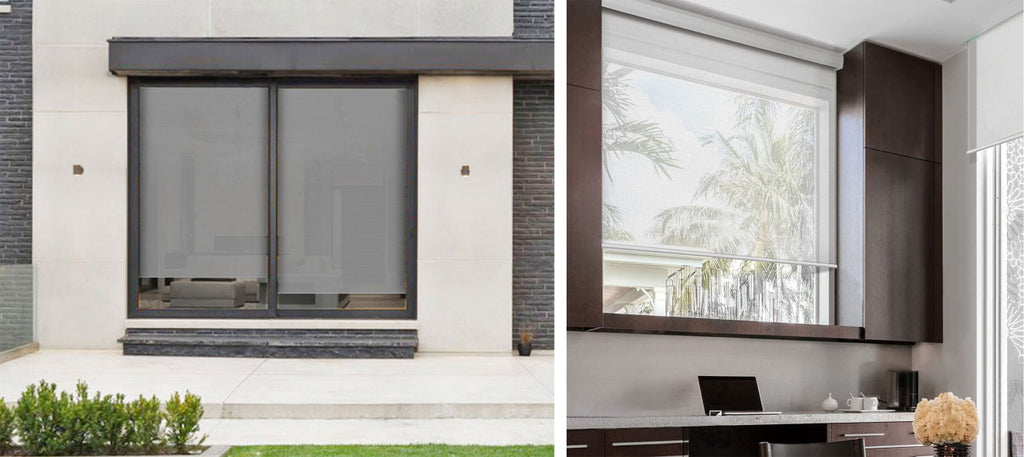 (pictured left) Vertical Sheer Drapes
(pictured right) Zebra Shades
Liquid silver Shines bright
The bright sunlight shines on the flowing lake and makes the entire lake sparkle like a silver mirror. The silver thread Vivid Series inspired by natural elements captures this wonderful scenery and freezes the summertime on the shades, and your room becomes a witness of season daily life, dreamy and exquisite.

V-series Fabric Samples
STRUCTURE
The structure is a chief aspect that is inconspicuous but significantly increases user experience because it's a guarantee for the function and can bring an advanced feeling. The structure can create a soft hazy shading effect similar to spring through fabric layering, and can also combine smart technology to show the beauty of dynamic light and shadow in spring and summer. Obviously, the summer efficiency brought by the geometric structure is also our concern. Moreover, window treatments balance the needs of beauty and function, making your home more personalized and bringing you a smarter life at the same time.
Sheer Layering
The soft and warm spring breeze blows layers of sheer panels to remind you that it's time to go out to enjoy the sunshine and the outdoors where all things are in recovery. Vertical Sheer Drapes are like the whisper of spring and become a medium for you to connect with nature, especially friendly for large windows and families with kids and pets, the cordless design is simple and safe.

(pictured left) Vertical Sheer Drapes
(pictured right) Zebra Shades
Summer stripes 2.0
How do you feel about the changes in the transition from spring to summer? The Smart Zebra Shades will show the visual art of light and shade, allowing us to easily feel the changes of the seasons when the curtains are opened and closed automatically. Sunset/sunrise timing function will be Zebra Shades' best partner to help your shades always operate at right time and live more easily.
Geometric structure
The three-dimensional honeycomb structure has a geometric efficiency, they trap air and form a protective layer for your house, so Cellular Shades are able to keep your house at a pleasant temperature in summer, both saving energy and bill while protecting the environment. Once you use it, you must like this guarantor of your house's comfortable temperature all year round. Two solutions are designed to meet your specific light filtering needs.

(pictured left) Cellular Shades
(pictured right) Day Night Shades
Choosing preferred window solutions isn't a simple task. You can select suitable products according to your own requirements to better enjoy the fun of spring and summer. I hope this article can help you, and you can ask Yoolax window treatment experts if you have any questions. They will provide professional solutions for you so that you can enjoy a relaxing and smart life.