Why Smart Zebra Shades are Trending?
We progressively come to understand the significance of window solutions in life as a result of technological advancement and the increasing quest for quality of life. Smart shades make our lives more convenient while providing lighting and privacy and adding an advanced aesthetic to our houses. Zebra blinds, which consider the sense of modern style and diverse practicability, stand out and become the ideal option for many people's home decoration designs among the numerous window treatments in home decorations.
The zebra blinds got its name because of delicate layered sheer and solid fabric bands with transparent and opaque stripes, making it adjustable to any varying dimensions of light. Simple structure and minimalist design looks modern and stylish.
This is a two-in-one window solution that functions as both shades and blinds: on the one hand, it can raise and lower as a roller blind to determine the position we need; on the other hand, we can adjust how much light enters accurately as possible like blinds. Zebra blinds may display powerful strength regardless of how they look or how they work, so how can anyone not adore them?
To complement various rooms and decor styles, we provide a number of colors and options for opacity. Additionally, we continually update original designs in an effort to please everyone who loves zebra blinds.
Design: Modern minimalism meets contemporary aesthetics
Zebra blinds are synonymous with modern fashion. They have a flat and smooth surface without any other extra folds and decorations. Delicate sheer and polyester fabric intersect to form zebra-like stripes, so that we can see the scenery outside through the transparent sheer, and the opaque band fringe makes it difficult to see through directly. When the sunlight falls on the ground through zebra blinds, a charming light and shadow effect can be produced.
Its minimalistic and appealing design makes it appropriate for a variety of formal workplaces, including offices, conference rooms, meeting rooms, study rooms, etc., which can give the monotonous public decor a fresh aspect. For serious offices, Zebra blinds always make the interior more lively and neutralize the dull atmosphere, they can also help private study rooms or conference rooms look more stylish, allowing users to enjoy additional visual beauty.
What's more, a great way to make interior more concise and exquisite is to use a valance that matches the color of the shade. We offer advanced fabrics and matched valances in a variety of colors and designs, so the interior decoration becomes more textured thanks to the consistent style.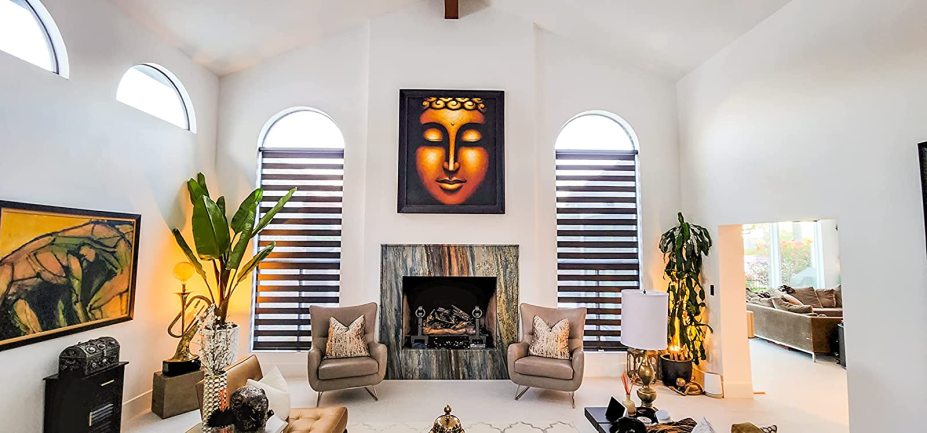 Color: 95% Shading - Carbon Black Photo by DPBFREE75
Practicality:
Versatile
filtering functions to protect our privacy
Zebra blinds are not just black and white, but also have a very flexible dimming capacity due to their distinctive stripes structure. We can regulate the rotation of rods, change how much the front and back stripes overlap, and let the shades be precisely adjusted between blackout and filtering. At the same time, we can also determine the position of raising and lowering in order that lighting areas could be controlled to our needs. As will be readily seen, meticulous and diverse adjustment abilities make Zebra Blinds very comfortable and flexible to use, and this is why Zebra Blinds are long-term appeal while greatly influenced.
When we lie on the sofa in the living room and watch TV, or rest in our bedroom, Zebra Shades can not only filter the sunlight and let soft lights enter the room evenly, but also can be fully closed when needed to protect our privacy. Significantly, for rooms that require a balance of light and privacy, such as living rooms, bedrooms, dining rooms, and family rooms, Zebra Shades are ideal.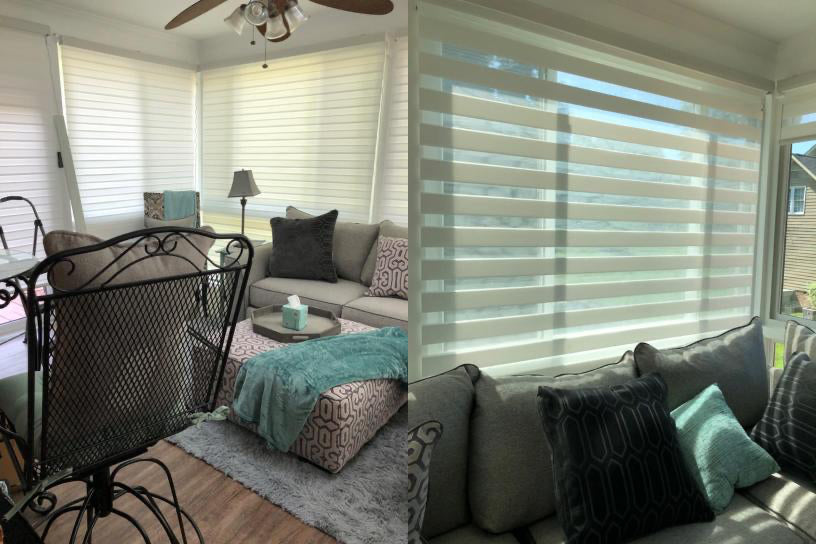 Color: 80% Shading - White Photo by Natasha
Smart System Build Our Smart Life
Upgrade Zebra Shades! Smart control is a major trend in the development of the window treatments industry, which significantly raises the practicality of shades and elevates our standard of living. Especially for the unique Smart Zebra Shades, we can appreciate that the transparent and filtering strip textiles are continuously staggered up and down, creating dazzling visual effects that are bright and dark.
Voice Control

We might be making a delicious lunch in the kitchen, or we are lying on the sofa reading books, so we can't spare hands to raise and lower Zebra shades. Making everything as simple as magic, we can make life happier by easily saying "open" and "close".
Sunset/Sunrise Timing Function

Open or close the shades according to the local sunrise/sunset timing function, let the shades work as the change of sunlight, and help save energy more effectively due to operating shades at the right time. It's no need to manually adjust Zebra Shades.
Cordless Design

If you are looking forward to a kind of safe and modern window solutions, cordless Zebra Shades will completely satisfy you. Cordless design prevents tangles and choking hazards, making it safe for kids and pets while also providing a neat appearance.
Energy Effectively

As we all know, solar energy is a plentiful source of clean, renewable energy that aids in the reduction of carbon emissions. Solar Panels let Zerba Shades no longer need to be charged, and we'll pay less for electricity.
See, our dual needs of shading and privacy can be satisfied by Zebra Shades. It will give our home a modern and contemporary style and serve as a helpful companion for our Smart life. Click here to order now!! Contact us if you have any inquiries, and the best-in-industry customer service is always here to help you. Our BEST smart life expert: Yoolax.